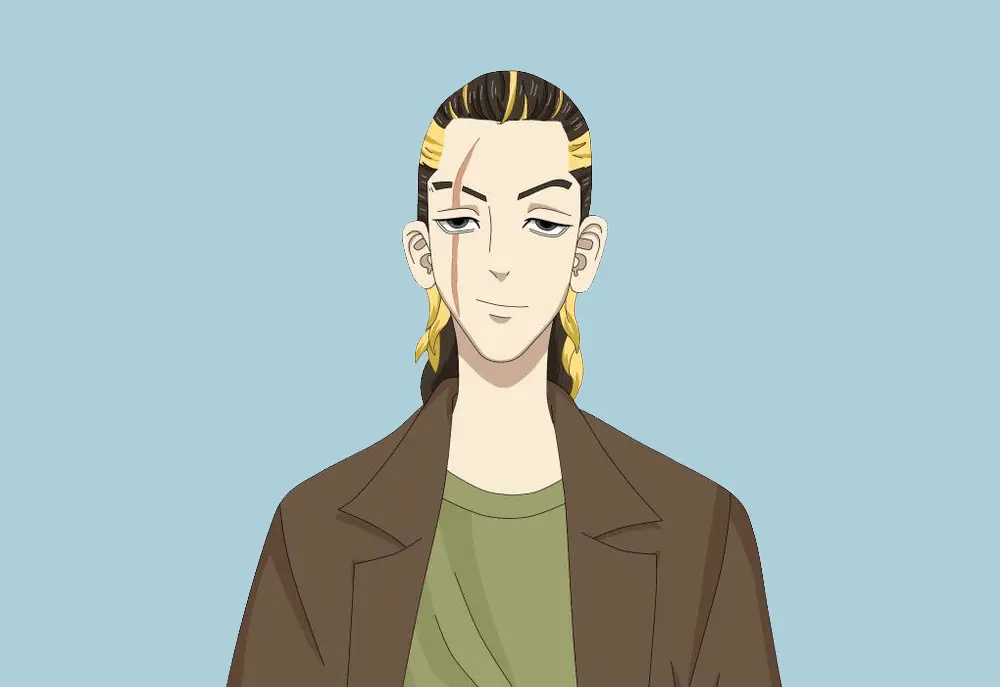 Character Profile For Takeomi Akashi From Tokyo Revengers
Takeomi Akashi (明アカ司シ 武臣タケオミ, Akashi Takeomi?) is a founding member and the former First Generation Vice President of Black Dragon. He is also the former Vice President of Brahman.
Japanese: 明司 武臣
Rōmaji: Akashi Takeomi
Gender: Male
Hair Color: Black (teenager)/Black and blond (current)
Relatives: Akashi family
Appearance Takeomi Akashi
Takeomi is a man in his mid 20s with a tall and slender frame and a slicked back mullet in the colors of black and blond. He has a prominent scar that runs vertically down the right side of his face, starting from his forehead down to the rightmost corner of his thin lips.
As a former Vice President of Brahman, he is most often seen wearing the traditional gang uniform but with customized sleeves that bear a dragon scale design over an abstract wave pattern.
Takeomi wears a pair of dark jeans and black sneakers underneath his uniform. He is also never seen without a cigarette, indicating that he is a chronic smoker.
Back in his early 20s when he served Black Dragon as Vice President, Takeomi donned the First Generation uniform and wore his natural black hair down.
In the Bonten timeline, he wears a trench coat over a business suit that consists of a light pink dress shirt, a maroon necktie, and dress pants in the same color.
Personality Takeomi Akashi
Takeomi is a difficult individual with an inferiority complex. He believed in himself to be average at everything in comparison to his friend Shinichiro Sano whose kind and earnest nature earned him the loyalty of his rivals and even the highest position in the delinquent world of Tokyo.
Upon being named Vice President of the once mightiest gang in the city (Black Dragon), Takeomi became arrogant and power drunk on the glory, influence, and riches his position granted him.
When his influence started to wane, he was so deep in debt that he could not even mourn Shinichiro's demise, making him self centered.
As his life hit rock-bottom, Takeomi's younger sister Senju Kawaragi voiced her will to create a new gang, prompting her to seek counsel in her older brother who she eventually entrusted a position to, evincing her belief in his incredible wisdom and advice.
Her trust and reliance on him was a sentiment that brought him to tears; through his upbringing of materialism and gluttony, it was a work of wonder that there were people who still believed in him.
Nonetheless, this so-called change from within began to fall when Senju's influence and Brahman's power grew, reigniting the greedy flames inside of him and upsetting Senju to the brim.
Upon the discovery of his sister's authentic feelings toward his behavior, Takeomi comes to realize that he had abandoned Brahman's principles and eroded Senju's trust, most especially when he recruited Ken Ryuguji into the gang and progressively became wicked.
His acknowledgement of his shortcomings amid the battle between Senju and South Terano leads him to fall in defeat and in tears in front of his sister, lamenting on and repenting for his actions.
Formerly serving Brahman as Vice President, Takeomi is also heavily burdened with work. He takes care of Senju's duties when she is not tending to them and serves her as a proper advisor, becoming her voice of reason for the more emotional and idealistic side of herself, particularly when he is angered.
After Draken's demise, Takeomi orders Brahman to prepare for a counterattack against Rokuhara Tandai to avenge him. Senju opposes his idea and tells him that Brahman is not prepared to fight, but Takeomi stands his ground and argues that they must strike back before Rokuhara Tandai gets away with their actions.
It is possible that his conviction to fight in the name of his gang, whether Brahman or Black Dragon, granted him the popular nickname "God of War."
Aside from prioritizing the welfare of his gang, Takeomi most especially does not tolerate slander against the people he is close with. When Takeomi brings up the death of Izana Kurokawa after discovering Kakucho's alliance with Rokuhara Tandai, he is insulted by Kakucho himself by bringing Shinichiro's name into the conversation. Although hypocritical, Takeomi is ultimately ticked off and unsettled.
He has a habit of smoking and is frequently seen with a cigarette during and outside of fights. He also does not lose his composure even in the face of danger.
Skills and Abilities Takeomi Akashi
Authority
Takeomi has been awarded several positions during his time as a delinquent. He first began as a founding member and the First Generation Vice President of Black Dragon then became the Vice President of Brahman years after.
He is also Senju Kawaragi's right-hand man and is often seen being her advisor, proposing decisions when needed.
Wisdom
Takeomi has been gifted with wisdom. His younger sister Senju and eventually Manjiro Sano, the leader of Bonten, a crime syndicate in an alternate present timeline, would seek Takeomi's counsel and advice, essentially making him their trusted adviser in the team.
As Senju stated herself during Brahman's formation, she wanted someone who she could trust and give guidance to the team as her second in command.